Welcome to the Paper Trail blog hop! This month we're hopping along with Proplayer. If you've arrived here from
Linda's blog,
you're on the right track. If this is your first stop, don't worry - our hop is circular!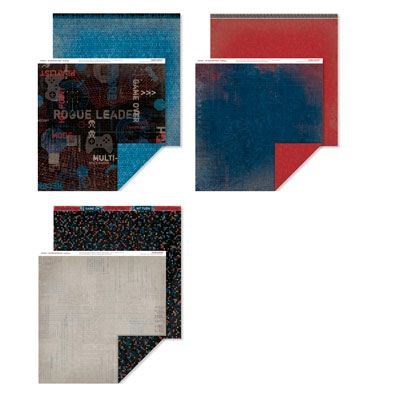 I love the colors of this paper! Ruby and Pacifica are such vibrant colors and they are fun to work with! I have to confess, however, my kids are young and therefore aren't really into video games. I wasn't sure how these papers would work for me, but when I started creating, I loved what I came up with!
I apologize in advance for the quality of my photos. Hopefully the sun will be out tomorrow and I'll be able to share new ones.
The colors of this paper were perfect for some photos of kids at play -both with the clothes and the playground. When I used the patterns in small bits, I found that they seemed more geometric and less game specific. I used embellishments from the
Proplayer assortment
,
Slate Polka Dot Washi Tape
, a frame from
Dimensional Elements Snapshots
and arrow stamps. I liked the way the circular embellishments mimicked the patterns in the paper and the arrows focused attention on the important parts of the page as well as showing movement - as the photos of the kids do!
I decided to emphasize the geometric nature of the patterns again in this layout. (It is nice that the people I photograph wear so much blue!) Notice, I used round embellishments - here it was
Durables Round Studs
- and arrows - here made from the Ruby paper - just as I did in the previous layout. The materials and theme were largely the same.
This is one of my biggest tips in scrapbooking - when you find something that works, use it and use it again!
Thanks so much for stopping by. I hope you'll be back in the next few weeks to see some more fun projects. Now head over to
Amy's blog
to see what she has created - she is a pro, you know!