As you can imagine, the
story of our flight
was only the first of many from that trip. For this layout about an evening visit to Epcot, I decided to emphasize the world travel theme. The
Wanderful Workshop on the Go
was perfect!
Here are all of the items included in the workshop kit: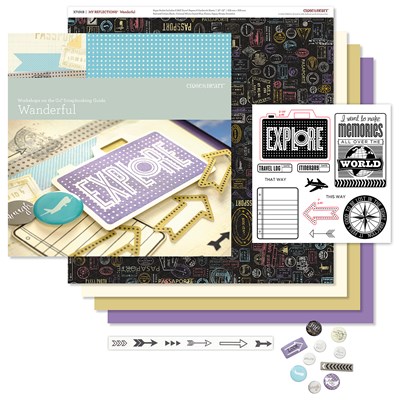 I love workshops on the go for many reasons. Here are the top four.
#1 The design is done for me!
I love the way the title, photos and journaling work together to tell the story on this layout. I modified the photo placement from the layout described in the brochure because I had different photos, butthe design still works! The paper elements on the layout laid a good foundation that made it easy for me to add my photos.
#2 Each workshop comes with a kit exclusive stamp set that coordinates perfectly with the papers!
I love the airplane, the journaling card that looks like notebook paper, the arrow, the title! All of these images were designed to coordinate with this paper and it works! Did I mention that this stamp also coordinates with the
Artbooking Cricut cartridge
? And the workshop kit is the only place to purchase this cool stamp!
#3 Each kit comes with more than one coordinating embellishment!
This kit included the Wanderful Assortment set of flair and the arrow washi tape which is quickly becoming my favorite. As with the stamp set, these products were designed to coordinate with the papers so they are easy to use and really help to tell the story!
#4 The workshop kit is a great value!
Perhaps this should have been number one. Each workshop kit is a great value. You receive the paper pack, the exclusive stamps set, two coordinating embellishments and the brochure with measurements, full color artwork and additional ideas. Even after creating this layout, I have lots of paper left, about half of the flair and most of the roll of washi tape. Oh, and don't forget about the stamp that I will be able to use for as many projects as I like! I am sure you will see these products again!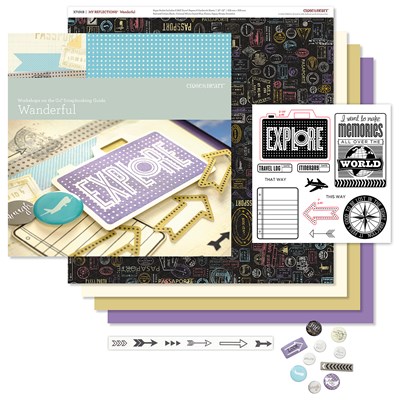 This workshop on the go made it easy for me to tell my story of an evening at Epcot. I didin't have to agonize over pattern books or sketches to choose a design. I didn't have to dig through my stash to find stamps or elements that coordinated. All that I needed was to select my photos and tell my story! That is my kind of a layout!
What is your favorite workshop on the go in this idea book?
If you don't know, why not check out the
Annual Inspirations Idea Book
online to see which one might help you tell your story! Don't forget to come back here and tell me which is your favorite! One lucky responder will win a prize!