Welcome to this stop on the Paper Trail Blog Hop! You've likely arrived here from Inky Fingers, Karen's blog. If not, never fear. As always, our hop is circular so you can start anywhere!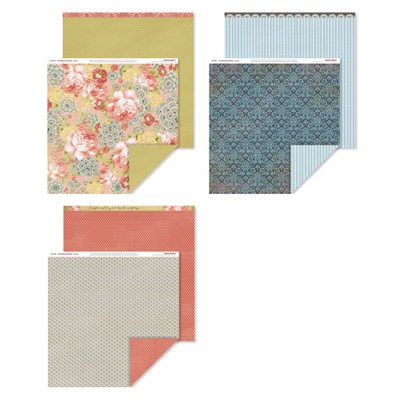 I love the
Ariana paper pack
! The patterns are elegant and include my favorite color ever:
Outdoor Denim
. True confession, Outdoor Denim is one of the few ink pads I have worn out past the point of re-inking. I
This elegant floral paper was perfect to record an elegant birthday celebration. Ariana features kit exclusive colors Ariana Coral, Ariana Green and Ariana Grey. I didn't have enough Ariana Coral for my design, so I went into my stash to see what I could find. I came up with Blush cardstock which worked well for my project. Here is how my two page layout turned out.
The left page:
The right page:
I used the stamp set from the
Ariana Workshop on the Go
to create these flower embellishments using the rock and roll technique. Since I had used Blush cardstock, I used that as a base for my stamping and rock and rolled with Hollyhock.
Workshops on the Go are a good bargain and they come with products that already coordinate perfectly including an exclusive stamp set!
I decorated the edge of the Outdoor Denim cardstock using the
Scallop Border Punch
. The border is a strip of Blush cardstock embellished with another sentiment from Banner Wishes.
Thanks for stopping by! I hope elegant Ariana has inspired you. Please leave me a comment and let me know what you think before you continue on the Paper Trail to
Mary's blog, The Road to Peace of Mind or Escape?